Aquarium Ideas for Living Room: Beautiful Design Ideas You Should Consider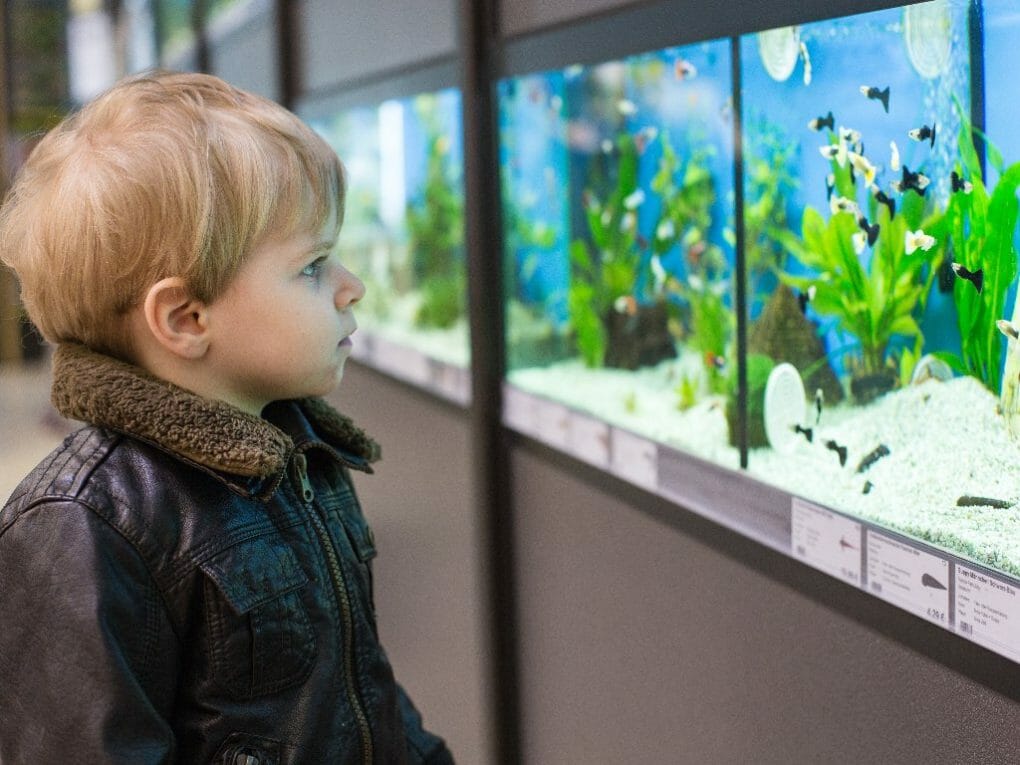 A home aquarium is a great way to bring fish and plants together in one place. When designing your aquarium, make sure your aquarium design reflects your personality and style. Once you have selected a design, get started on the construction phase. Choosing the right tank, fish, and plants is essential, but the finishing touches will make your aquarium stand out. Add a splash of color with live plants or fish, and enjoy the beauty of a home aquarium design!
Beautiful Home Aquarium Design Ideas
Freestanding Focal Point
A fish tank is a great way to add personality and beauty to your living room. Not only do they provide a breathtaking focal point, but you can combine different types of fish and plants to create a stunning display. If space is tight, consider opting for a freestanding tank – they take up minimal counter space and look beautiful in any setting. Make sure the water chemistry is balanced, and feed your fish regularly!
Built Into the Wall
Installing one into a wall gives you the advantage of having an aquatic feature at your fingertips. You can choose from various types of tanks and fish to reflect your style and preferences. As for plants, they will help keep your tank clean and looking nice. And since this is such a unique way to add an aquatic feature to your home, it's bound to become popular shortly!
Corner Aquarium in the Office
Corner aquariums are a popular choice for offices these days as they provide a nice touch of personality and can also double up as workspaces. If you're looking to buy one, many affordable and stylish options are available on the market today. Make sure that the fish tank you choose is compatible with your home décor – after all, it will be in your office most of the time!
Kitchen Island Aquarium
There's no need to go out and buy an expensive aquarium just so you can keep fish in your kitchen – with a bit of creativity, you can make your kitchen island aquarium that is both functional and beautiful. Here are some tips on how to create the perfect kitchen island aquarium: 
If you have limited space, consider making your aquarium part of the countertop. Doing this will become part of the decor rather than taking up valuable room on a coffee table or sideboard. 
You can also use it as an entertainment center for guests or simply as decoration. 
A kitchen island aquarium is a great way to showcase your aquatic specimens. Whether tropical fish or freshwater creatures, having them all visible and within reach makes caring for them much more manageable. It's also great for using leftover kitchen food and water products!
Staircase Aquarium
If you're looking for an aquarium that will stand out in your living room, then the staircase aquarium is the perfect option. Not only does it look amazing, but it's also easy to install and maintain – making it a great choice if you're on a tight budget or want to keep things simple. Plus, by adding live plants into the watery environment, you'll get a natural-looking effect that can't be beaten.
This fantastic design is perfect for a loft-style living room and comes complete with fish tank details like water droplets. Alternatively, if you don't have access to a fish tank but still want to create an aquarium atmosphere in your living room, try using aquatic plants instead! Not only do they add beauty and color to any space, but they also provide essential environmental benefits like reducing water runoff.
Room Divider
A room divider is a great way to keep your fish healthy and happy by providing excellent water quality and temperature. Using plants, stones, or even aquarium decor can add some natural elements of visual interest while still leaving plenty of space to move around. This will create an intimate setting for viewing your fish while still allowing you to have space in the living room for other activities.
Hallway Aquarium
A hallway aquarium is a great way to add personality and natural beauty to your home. You can decorate it with live rocks and coral or choose plants that will create an elegant backdrop for your fishy friends. This tank type is perfect for smaller fish as they won't need as much room! Plus, adding a hallway aquarium makes it easy to show off your aquatic collection without too much space.
Fireplace Surround
If you want to add a minor nature to your home, installing a fireplace surround is the perfect solution! Not only will it give your room an added aesthetic appeal, but you can also install a fish tank and sump system to keep them healthy. Alternatively, get creative with the décor and use different materials like wood or glass to create an eye-catching look. You could even turn it into an aquarium for kids too!
Dining Room Divider
You can use an aquarium to divide your living room into two or more separate spaces – making it the ideal spot for an aquarium. Alternatively, consider using a floating shelf if you're looking for something more permanent. This will give you endless options in design and layout; whether you prefer minimalist or elaborate setups, there's sure to be a floating shelf that suits your needs.
Side by Side
If you're looking for an aquarium design that will impress your guests, try the side-by-side aquarium. It's a popular choice because it looks impressive and is easy to clean – making it perfect for small living spaces. Another great advantage of this design is that there are fewer areas for dirt and debris to build up, which means fish have room to move and swim around more freely. 
Aquarium Bar
An aquarium bar is a versatile piece of furniture made from various materials, depending on your taste. For example, a fish tank without a bar doesn't feel complete – so why not use this great space by adding a few live plants? Not only will they provide natural illumination and oxygen, but they'll also add some personality and flair to your room!
Headboard Aquarium
A headboard aquarium is perfect for adding excitement and color to your living room. You'll create an underwater wonderland that amazes guests by decorating it with fish. You can use this space for various purposes – from decoration to extra storage (perhaps in the form of fish tank accessories).
Mason Jar
Mason jars are the perfect way to add a touch of nature and fish fun to your living room decor. With their bright colors and fish-themed design, these containers can be used as a side table or coffee table – add some gravel! 
If you're looking for something different from your traditional living room decor, Mason jars could be the perfect option. They provide an exciting update and help reduce stress levels by providing a relaxing space where people can relax after a long day. Plus, with all the aquatic life featured on them, it's hard not to drift off into dreamland when admiring this beautiful decoration!
Tube
A tube tank should be on your list if you're in the market for an aquarium that will add character and style to your living room. Not only is it easy to assemble, but fish lovers love them because they give them the flexibility to display multiple fish at once – making conversation pieces central! 
Perfect for any room in the home, this aquarium can come with either freshwater or saltwater fish. All you need is some gravel and water plants – so whether you're new to fishkeeping or want an upgrade, a tube tank is worth considering!
Telephone Booth Aquarium
If you're looking for a creative and unique way to showcase your fish collection, take advantage of the idea of creating a telephone booth aquarium. It is a fantastic aquarium in its own right, but it's also great for people who love going on walks or hikes. The sound of the waterfall will keep you entertained while you're away from home!
Bathtub Aquarium
A bathtub aquarium is great for showing off your fish collection in the living room. It is also an excellent option if you need more space for a full-sized tank or wants something that looks nicer than a tank displayed on the wall. Many different types of fish can be used in this aquarium, so you will indeed find one that interests you. Adding plants and decorations will make it look even better!
Freshwater Home Aquariums vs. Saltwater Home Aquariums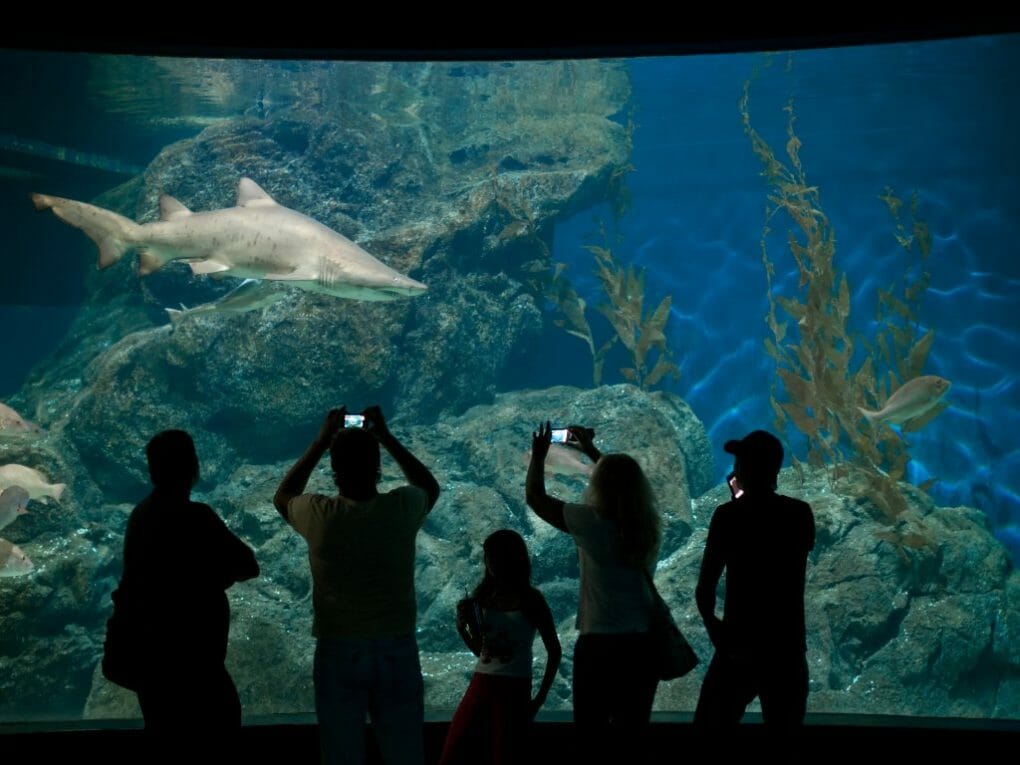 When it comes to freshwater home aquariums, choosing the right fish tank size is essential based on your living room's space availability and budget constraints. There are a variety of sizes and shapes of tanks, so be sure to pick yours wisely. 
Saltwater tanks are perfect for those who want to see marine life realistically. They require less maintenance than freshwater tanks. However, if you prefer freshwater fish over saltwater fish, you must ensure that their water needs are taken care of properly – just like in a regular freshwater tank! 
If you're thinking of getting a saltwater aquarium for your living room, here are a few saltwater fish ideas to get you started: 
Goldfish: These fish are generally easy to care for and are known to be friendly. 
Tetras: These fish are known for their swimming abilities and are a favorite of many hobbyists. 
Barbs: These fish are known for being challenging to keep, but they make for a beautiful fish tank if done correctly. 
Gouramis: Gouramis are fish that can be kept in most aquariums and are known for their swimming abilities.