How to Apply Vinyl Aquarium Background: Step by Step
If you are looking for a way to customize your home aquarium and make it look unique, then you should consider using vinyl aquarium background. It is an inexpensive option compared to buying different kind of fish and accessories. Moreover, this is an easy way to add more personality to your tank.
When it comes to aquariums, we have a variety of options available. In this article, we will discuss the benefits of using vinyl aquarium backgrounds as well as the step by step process of how to effectively install it in your fish tank.
Why Should You Use a Fish Tank Background?
There are a variety of reasons why you should consider using vinyl aquarium background. First, it is a cheap option to make your aquarium look attractive. Vinyl aquarium backgrounds look great even when they are hidden underneath the trays with plants. Moreover, these will match your décor that is already present in the tank and keep a unified feel throughout the room.
Vinyl backgrounds are also easier to clean than glass or plastic aquariums. They are also scratch resistant and much more durable; Finally, these can be installed in less time than installing a regular glass aquarium background.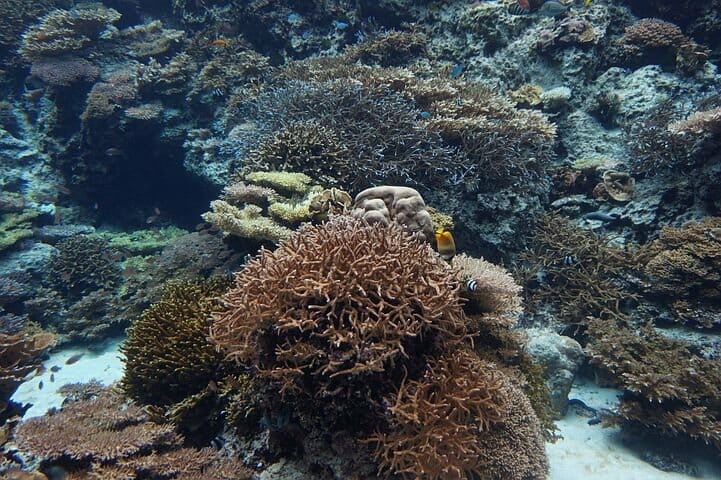 How to Apply Vinyl Aquarium Background
Step 1: Prepare Your Aquarium
First and foremost, you must make sure that the tank surface where you will be applying the vinyl background is free from all debris. You can utilize a dampened cloth to clean it and let it dry over time. Also, you can use a scrubber brush to remove the loose dirt and debris from between rocks as well as substrate.
Once it is cleaned, open your tank up and turn on all of its lights. Now that everything is clean and shining brightly inside the aquarium, you are ready proceed with Step 2.
Step 2: Prepare Your Vinyl Background
If you are unsure of your aquarium's measurements and dimension, this is the perfect time to find it since you now have a clean aquarium. Choose the color and size of vinyl aquarium background you'd like to use by considering your fish tank dimensions, including its height, width, length and distance between lights and substrate or rocks.
Measure the size of your background by placing it against one side of the tank. Make sure the measurements will work with your specific fish tank dimensions; cut out that part and attach to remaining floating frame. Remove all trim pieces from around the perimeter of aquarium (or substrate if not wood) that are not attached.
Step 3: Anchor the Vinyl Background
Place the background graphic along the aquarium's upper edge and utilize a masking tape strip to anchor the vinyl background in the center. In addition, make sure that the bottom of the vinyl aquarium background is positioned at the same level as your substrate.
Step 4: Attach Vinyl Background to Aquarium's Surface
Apply adhesive strips to both sides of the vinyl aquarium background, along with a few extra strips along the top edge for stability. Ensure that all parts are attached firmly and evenly before you seal it up by using an acrylic caulk gun. Once you have applied the caulk lightly to the vinyl, trace along the sides and make sure there are no bubbles.
Step 5: Attach the Trim and Lights
Attach your trim pieces by looping them around aquarium's sides in a decorative fashion. Use an additional tape strip to secure all four corners of vinyl background. Now that your fish tank is decorated, it's time to turn on lights and fill water with tropical aquarium plants!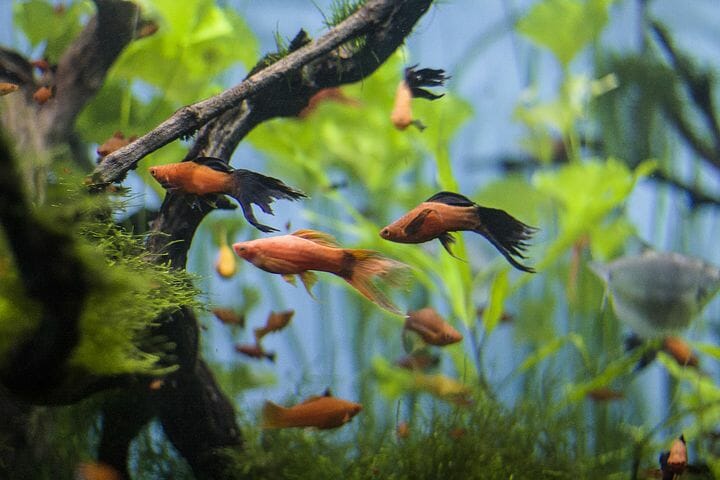 How to Choose Vinyl Images for an Aquarium Background
There are a number of websites that sell vinyl aquarium pictures, but it's important to choose the right picture style. One liner and monochromatic backgrounds work well with a dual level tank while more elaborate background including fish-eye look good when placed on single levels. But, you can also combine these backgrounds with ones from old cookbooks or even the local library; this will allow you to customize your tank.
Take the time to research the "look" of your fish to ensure you have a look that matches. Furthermore, the colors you choose should be complementary to the fish and plants. The goal is to create a balance of colors and textures so that your fish can feel at home in their new environment. To make sure you have a great aquarium background, look for images that have been professionally printed on high quality vinyl.
What to Remember When Using Vinyl Background
Avoid putting any plants into your vinyl images because this is where algae can start growing which can ruin the look and texture of the background instantly. Place sturdy plant stakes in place before fitting out of the vinyl background. The aquarium gravel shouldn't have too much organic matter on it, so if you're using anything loose, give the substrate an initial cleaning first to avoid damaging your vinyl picture.
How to Remove Vinyl Aquarium Background
To remove the vinyl background images from your aquarium, simply rub them off; you don't even have to use a paper towel again. Once they are removed, wash the glass and sponge down over a vinegar floor cleaner solution being careful not to get any in natural crevices where algae can grow. Next, turn on indirect lighting for about 8 – 10 hours after which time it should dry out enough that you no longer see any moisture there.